LA FITNESS | memphis campaign 2019
May - October
MEMPHIS MARKET OBSERVATIONS
Memphis is one of America's fattest cities with 40% of its residents obese

Our culture puts emphasis on unhealthy food rather than health and wellness

Excuses not to workout

Obesity

Heart disease

Diabetes

Intimidation
TARGET AUDIENCES
Memphians who are ready to make a commitment and invest in their health and fitness

Memphians who live and/or work within 1-3 miles of each LA Fitness location

Bartlett

Collierville

Cordova

East Memphis - Oak Court and Ridgeway Rd.

Hickory Hill - Polo Grounds Blvd.

Lakeland
CURRENT PERCEPTIONS
Low brand awareness of LA Fitness

Low awareness of LA Fitness locations, even within 1-3 mile radius

Proximity is important. People workout close to where they live and/or work
GOALS
Raise awareness of LA Fitness in the Memphis area

Increase club walk-ins so they can be converted to members

Increase daily check-ins to reach each location's goals

Increase completed online forms on Memphis location pages of lafitness.com

Increase calls to LA Fitness Memphis locations
MARKETING STRATEGY
Utilize a mix of paid media to deliver high frequency messages to increase top-of-mind awareness of LA Fitness among the target audience in Memphis
CAMPAIGN RATIONALE
Build concept of community

Taglines reflect both personal goals and gym attributes

Uses energetic brand colors as basis for palette

Color gradient and italicized font evoke movement and flow

Imagery is aspirational and more demographically representative of Memphis population

Greater focus on women in imagery to combat gym intimidation
Outdoor
Increase awareness of LA Fitness in Memphis
Strategically place outdoor advertising to align with LA Fitness club locations
Utilize a mix of permanent bulletin, rotary and bus shelter outdoor boards
Deliver 2,050,760 weekly impressions from May - October
5 billboards + 5 bus shelters for 6 months
14 X 48 BILLBOARD + BUS SHELTER OUTDOOR ADVERTISING
Increase awareness of LA Fitness in Memphis
Strategically place outdoor advertising to align with LA Fitness club locations
Utilize a mix of permanent bulletin, rotary and bus shelter outdoor boards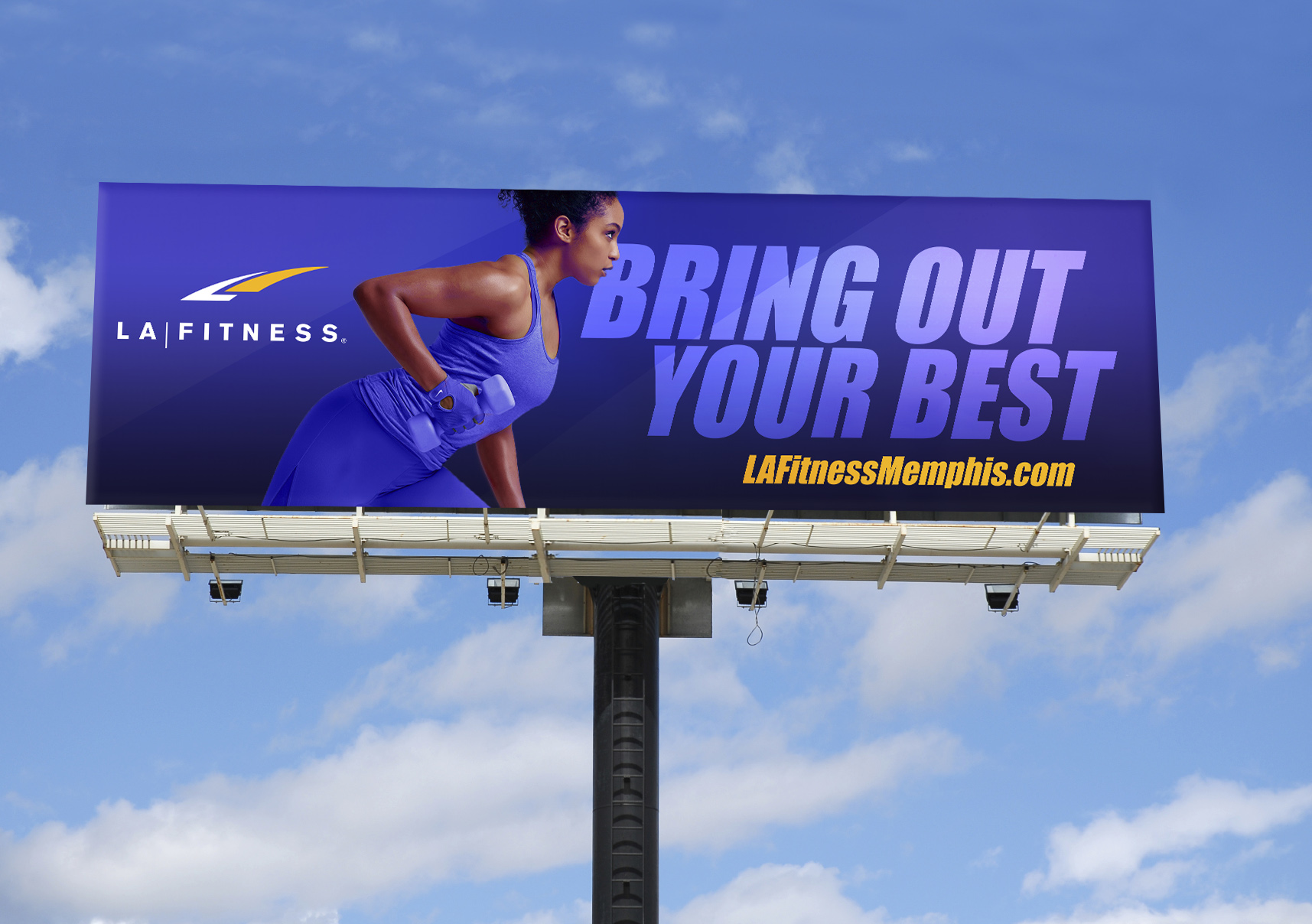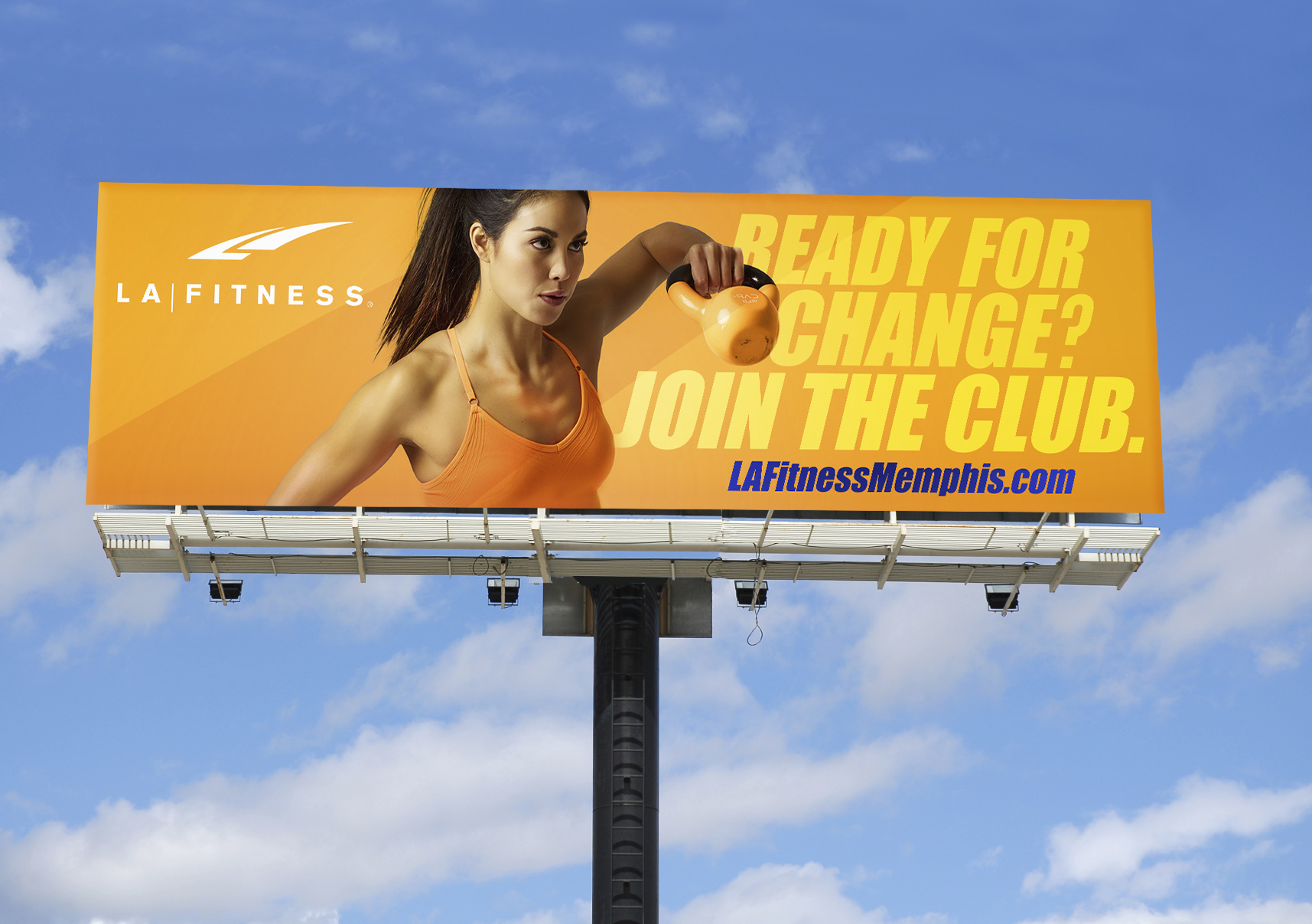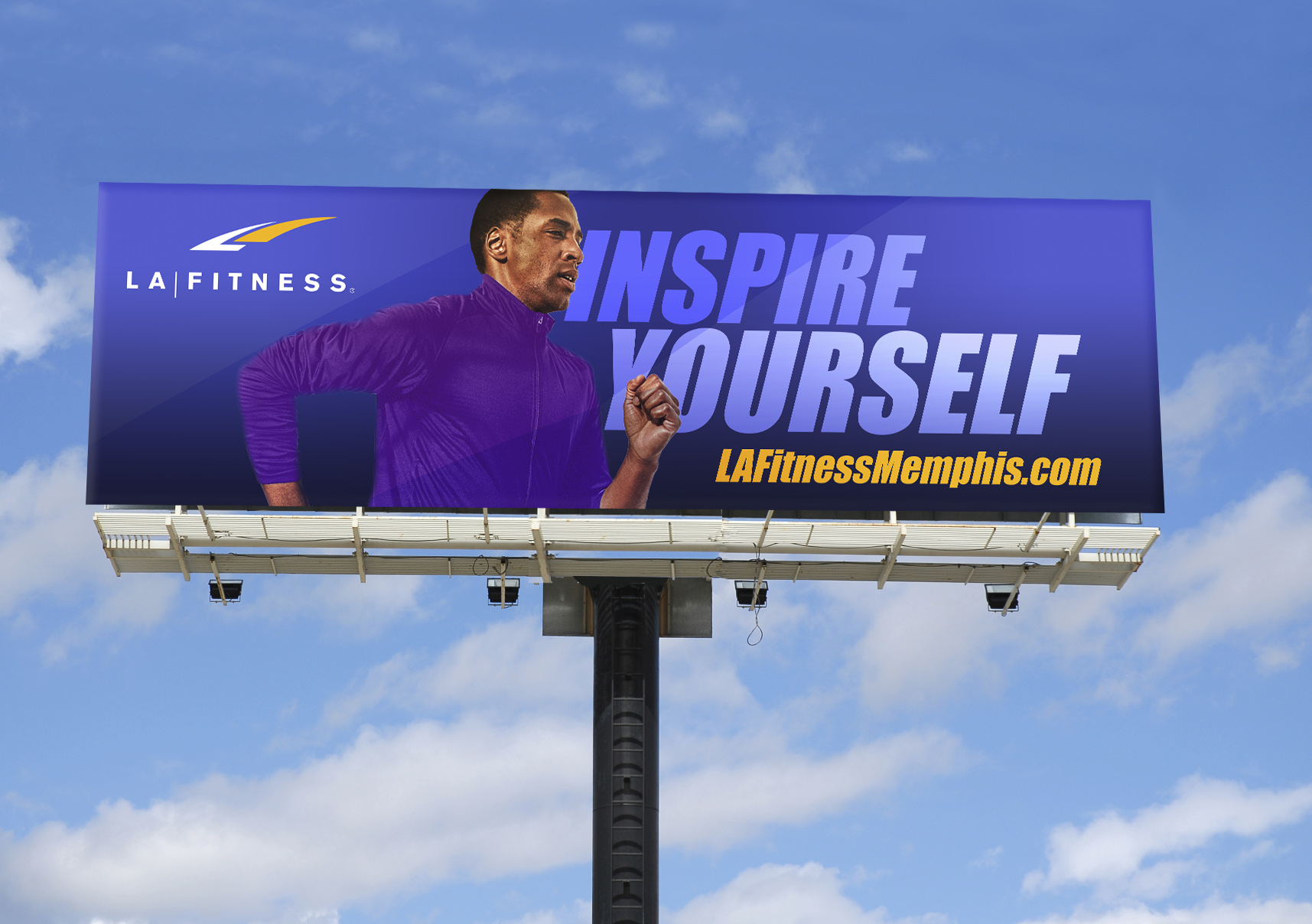 PRINT
Invite target to try LA Fitness and all it has to offer
Increase awareness of LA Fitness
Appeal to residents in the same communities as LA Fitness clubs
STICKY NOTES ON COMMERCIAL APPEAL AND COMMUNITY WEEKLIES
158,846 Subscribers

Zones of LA Fitness Locations

East Memphis

Bartlett

Collierville

Cordova

Hickory Hill

Lakeland

6x in 6 months
PRINTED COLLATERAL FOR CLUB DISTRIBUTION
Quantity: 7,000

1,000 per club location
RADIO
Increase awareness of LA Fitness through impactful, interactive and fun initiatives

Align with 2 established, popular, well respected stations delivering the desired target

Ensure reach and impact of your message by creating a high frequency campaign with 
short form radio spots during peak listening times
FM100 TODAY'S BEST MIX
FM100 is synonymous with Memphis, family-friendly
Today's Pop music (HAC – Hot Adult Contemporary)

Justin Timberlake

Maroon 5

Bruno Mars

Pink

Imagine Dragons

Taylor Swift

Listener

55% Female

62% 25-54 years old

40% Have college degree

46% HH Income of $75,000+

60% Homeowners

Weekly Reach

259,000+ consumers ages 18+

Frequency

26 weeks

1,820 Total Spots – 26/week

M-F 6a-7p - 25

M-Su 7a-12m - 10

M-Su 12m-7a – 25
92.9FM ESPN SPORTS RADIO
Voice of all things sports in Memphis

Memphis Grizzlies

Tennessee Titans

Dallas Cowboys

Memphis' best sports writers and opinion shapers

Listener

71% Male

76% 25-54 years old

43% Have college degree

50% HH Income of $75,000+

65% Homeowners

Weekly Reach

80,000 consumers ages 18+

Frequency

26 weeks

1,040 Total Spots – 26/week

M-F 6a-7p - 25

M-Su 7a-12m - 15

M-Su 12m-7a – 25
Ready for change? Join the club. At LA Fitness we believe showing up is all the initiation you need. Come in and try it out for five days on us. Find your nearest location and get a guest pass for you and a friend at lafitnessmemphis.com.
COLLIERVILLE GRAND OPENING
FM 100 2 hour broadcast & talent onsite

92.9 ESPN 2 hour broadcast & talent onsite

25 additional promo announcements

Commercial "call-ins" from event

Email to station database with coupon for guest pass or prize redemption
BIRTHDAY PRIZE PACK
Each listener who opts into the birthday portion of the loyal listener club receives a happy birthday email and special prize:
LA Fitness Zip Codes Reaching 1800+ listeners

38117

38125

38119

38002

38018

38017

38134

LA Fitness Branded Prize Pack

Sports bottle

Towel

Guest Pass

Bag
FM 100 MATCH GAME PRESENTED BY LA FITNESS
PART OF 100 DAYS OF SUMMER ON FM 100
June 3-23, 300 promos, 25 prize Packs

Listen of FM 100 all week at 7a, 11a, 3p, 5p

Be the 10th caller and pick your 2 beach ball numbers

Get the match correct and you win!

Trip to see Ariana Grande in LA

Amazon Echo Smart Speaker

$100 to Ruth's Chris Prime Steak House

$500 to Robert Irwin Jewelers

Autographed guitar from Rob Thomas

Download the LA Fitness Match Game Board on fm100memphis.com
FM 100 NAMING RIGHTS
Receive naming rights ownership of the WMC FM 100 Studio

8,760 Mentions = Once per Hour, 24 hours per day, 365 days

Website Takeover Each Month (12 Total)

10,000 monthly display ad impressions on fm100memphis.com

Links to LaFitnessMemphis.com, landing page created exclusively for this campaign
92.9 ESPN SPORTS TALK RADIO
Memphis' most listened to talk sports show

Every weekday at Noon

Recap of the day's top news stories

Informative, funny, always on-point

Segment Sponsorship

LA Fitness is branded into content on a daily basis, M-F
DIGITAL
Appear to people who are searching online for fitness services
Remind people of the services LA Fitness offers after they have left the club
Target people who share common traits with your customers
350,00 cycle impressions over 6 months
Link all digital ads to LAFitnessMemphis.com
Track users who have been served an ad and then visit one of your locations.
TARGET DISPLAY
Reach target audience across the web on desktop, mobile, tablet

Geographic targeting + layers of one or more:

Channel

Contextual

Site Retargeting

Search Retargeting

Demographic

Behavioral

Geo-fencing
Track a customer's intent.
LANDING PAGE - LAFitnessMemphis.com
Display ads will link to a landing page with the LA Fitness Memphis Locations

When a user selects a location on the landing page, they will be directed to the actual location page on LAFitness.com with information specific to that club